Windseeker and Dinosaurs Alive make the line up for new 2012 attractions
It was probably inevitable, but yet another Cedar Fair park is getting the 301 foot tall spinning ride, Windseeker. According to a link on the official Kings Dominion website, they will be getting the new thrill ride for next year.

According to the official Kings Dominion website, Kings Dominion will join Cedar Point, Kings Island, Canada's Wonderland, Knotts Berry Farm, and Carowinds in getting the new spinning tower ride.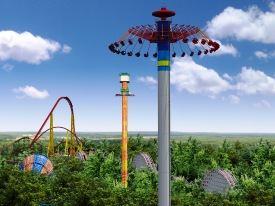 According to the official website the ride will open next year, and will be in the "Grove Section of the park near Juke Box Diner". This is the exact area in which they are currently rumored to be taking out El Dorado, the car themed carpet ride.
The park made the announcement official this morning, and it is listed on their official website.
Also on tap for next year is the animatronic dinosaur wonderland, Dinosaurs Alive. It too is located in other Cedar Fair parks and has been announced for Cedar Fair as well.
Dinosaurs Alive! will feature 36 life-size animatronic creations on a 6-acre Jurassic forest-like setting. Each dinosaur will be hand-carved and covered with skin-like materials. Visitors can see and experience what the dinosaurs ate, when and where they lived, how they protected themselves and how they adapted to their world. Highlights include the vicious-looking Irritator and its cousins, the Baryonyx and the Spinosaurus, the Stegosaurus, the meat-eating Tyrannosaurus Rex, the three-horned Triceratops and the flying Pteranodon.
Like the versions at the other two parks, Dinosaurs Alive us not included in park admission and will cost around five dollars.
Special thanks to @WeLoveCoasters for the heads up.
Advertisement